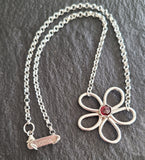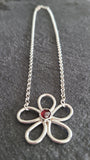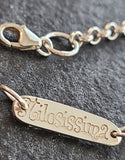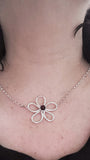 Stilosissima
Sterling Silver Modern Flower Necklace with Garnet or a stone of your choice, Amethyst, Aquamarine, Citrine, Tourmaline
A modern and very simple pendant. Unique because it is hand forged. The center of the flower showcases a 7 mm round faceted garnet in the picture. However, you have the possibility to choose your stone: Amethyst, Aquamarine, Citrine, Tourmaline.
The necklace is 16 inches long and the flower is between 1 and 1/2 and 1 and 3/4 inches (35 mm). This sterling silver necklace makes it a perfect gift for many occasions, especially birthdays, graduations and mothers day! 
This is a handmade to order necklace and will require from 1 to 2 weeks to be made.
It comes in a very elegant box, tied with ribbon, ready for gifting.